Regular Maintenance of your Vehicle is Important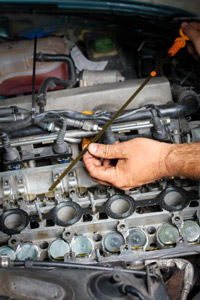 When was the last time you checked your air filter? Have you ever changed your fuel filter? Are you changing your oil every 3,000 to 5,000 miles? Are your tires being rotated at the appropriate mileage?
Our vehicles are no different than us. A trip to the dentist can result in a need to fill a cavity due to lack of or inadequate brushing and flossing. Your vehicle requires regular maintenance and check-ups to prevent a need for a costly repair further down the road. We realize this and do our best to look over your vehicle when it is in our shop to recommend suggested repairs or maintenance.
A few things that you should have looked at regularly include...
Front end parts
Brakes & rotor
Belts & hoses
Tire pressure, tread depth and tire wear
Fluid levels
Battery test
Charging system test
Coolant quality
Coil spring/leaf spring inspection
Undercarriage inspection (exhaust, brake lines, fuel lines)
We can inspect all of these key points and get you on a maintenance schedule that will increase the longevity of your vehicle.